MALIR MOTORWAY – GOOD NEWS FOR DHA KARACHI
Karachi, 17th November'2014:  DHA Karachi arranged a comprehensive presentation on Malir Motorway Project, in Ministry of Communication, Pakistan Secretariat Islamabad. The presentation was attended by Administrator DHA Karachi, Brig Zubair, Chairman NHA Secretary Communication, Shahid Ashraf Tarar, along with other senior officials.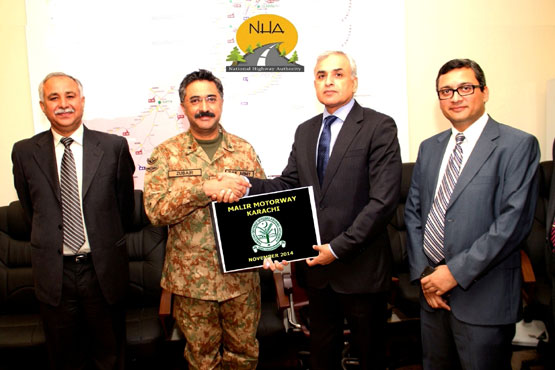 Administrator DHA Karachi presenting Malir Motorway draft plan to the Chairman NHA.–
In pursuance of the Prime Minister's legal approval of Malir Motorway Project, announced in Karachi at Governor House on the 10th of July'2014 in the company of military leadership and other higher officials, it was a follow up meeting. Apart from bringing DHA City at a distance of hardly 20 minutes from DHA Karachi, Malir Motorway would also offer a secure, short, and sustainable infrastructure guaranteeing the economic uplift of Karachi. The project also has the capability to facilitate efficient, secure, and swift movement of goods, people, and services from Port Qasim and Karachi Port to the Super Highway (M-9).
Additionally, apart from facilitating traffic to and from the port, it would also make available sustained relief to continuous traffic jam problems of the main roads in Karachi. It would also act as a tactical connection for rapid movement of military troops in times of emergency.
The Chairman NHA appreciated DHA team for its efforts, and asked for further information to make an early decision. The next presentation on Malir Motorway Project will be held in January'15 at NHA head office, Islamabad.
---