Oyster Court Luxury Residences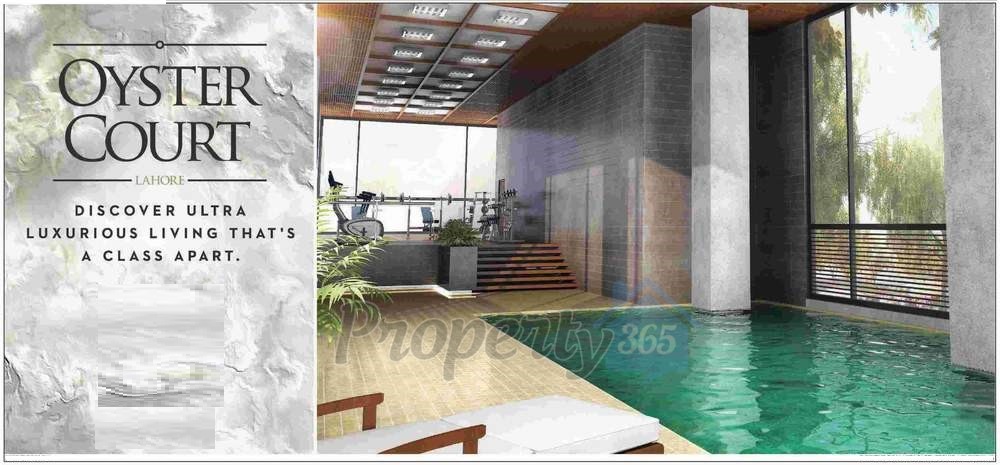 ---
There is undoubtedly about the way that Lahorites dependably acknowledge anything that is by a few methods partner with luxurious living and style. The city is known since years for its unparalleled building design and exquisite living style. Throughout the most recent decade, the heart of Pakistan and the capital of Punjab province has seen a lot of headway and change as far as building design and living. The significant development in the city incorporates development of world class shopping malls, premium transport services, modern housing societies and luxury apartments.
An exclusive gated community comprising a collection of world-class luxury residences in Gulberg, Lahore's new down town. Two six-storey buildings offer high-end furnished apartments in 3-Bed, 2-Bed and 1-Bed compositions.
The shape and structure of the Oyster Court is inspired from the shell of an oyster, which is the wonderful home designed by nature for the sole reason of nurturing the pearl. Issuing you the agreeable security of bespoke apartments around a central courtyard that streams with fresh water and blossoms with ever green flowering plants, Oyster Court Luxury Residences could be your approach to admire the creative architectural approach that has never been tried in Pakistan.
The recent addition to Lahore's vibrant lifestyle is the Oyster Court Luxury Residences. The name Oyster Court is given to the apartments development because their design is inspired from the oyster shell.
Location.
As far as the location is concerned, this self-contained residential complex is located in the center of the metropolitan area of Lahore i.e. Gulberg, at a walking distance from the high end shopping malls of Lahore at M.M Alam Road and Mini Market Gulberg. The whole new iMax theatre is also at a walking distance from Oyster Court Luxury Residences. The project covers more than six thousand square yards of land and is designed to the optimum details.
7 minutes away from Lahore Gymkhana, 5 minutes from Liberty Market, and has prominent localities such as Model Town, Lahore Cantt and DHA Lahore within 5-kilometre radius.
Options.
The self-contained residential complex, secured within a gated community, is built on an approximate area of 2 acres and provides accessibility through two spacious roads. Oyster Court offers discerning buyers two six-storey residential towers featuring high-end-suites in 1-, 2- and 3-bedroom configurations. Optional design themes, allowing buyers to furnish suites according to their tastes, are also offered.
Named Oyster East and Oyster West, both road-facing towers are fashioned with an eye –catching façade depicting Piet Mondrian's abstract design language. Casting a modern, minimalistic aura around the entire complex are the horizontal and vertical lines composing asymmetrical rectangular shapes on the towers. The unique design of the towers utilizes transparent screens that run along their entire length in order to filter sunlight and deflect the heat of Lahore's cruel summer afternoons.
Facilities.
Positioned at a strategic vantage point, Oyster Court offers panoramic views of Lahore. The luxury apartments at Oyster Luxury Residences offer mesmerizing views of sunrise and sunset each day. Those who are choosier about their home décor can even get their apartments customized before finishing as per their requirements. Lahorites are extremely passionate about food and while living at Oyster Court Luxury Residences, they won't be left disappointed. The finest cuisines of Lahore as well as shopping centers are within a few minutes' drive. Besides, the corporate buildings and businesses also lie in the neighborhood.
The ground floor has a swimming pool, fitness gym and a spa. Each of these two towers has 6 high speed elevators. With 24-hour energy back up, round the clock security, valet parking, and concierge services, the project has earned all the attention it is receiving. The double glazed temperature controlled glass windows offering uninterrupted views of the courtyard and gardens below, the fresh water running along both sides of the deck and a dedicated area reserved around the courtyard for private parties, Oyster Court Luxury Residence is what Lahore has been missing in its luxury real estate sector.
Harmonised with nature, the garden in the central courtyard is landscaped with evergreen plantations, flowering trees and water features that transcend the noisy environment of the city and offer residents a serene environment where they can take refuge after a long day. The central courtyard is also fashioned with wooden walkways that run parallel to water channels sporting low-gush water fountains.
The electrical/sanitary fittings, kitchen fittings and the woodwork of these apartments is equivalent to the international standards. There has been no compromise at all in terms of quality by the construction company.
---