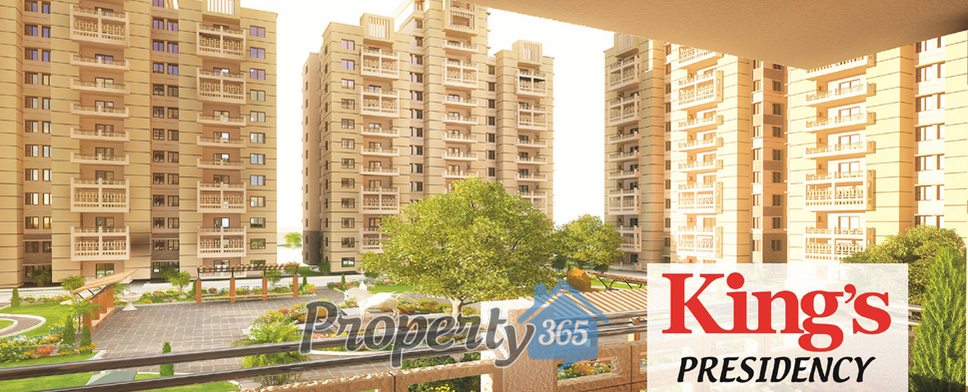 ---
THE LATEST JEWEL IN KARACHI'S SKYLINE
King's Presidency is an extravagance condominium project comprising of two smooth, moderate – design residential towers with sprawling facilities settled inside green scenery. Wanted to supplement the excellence of Karachi, the residential complex is situated to paint a scenic picture with its great façade.
When choosing a place to reside, you have every right to expect the availability of amenities attached with the concept of modern-day luxury living. King's Presidency has been planned to offer you the amenities that make your live convenient, comfortable, peaceful and of course-colorful. Converting the concept of environmental living into a concrete reality, the innovative manners of King's Group have been able to create a colourful, healthy and vibrant environment all around.
Securing you a serene home in the most looked for – after city of the nation, King's Presidency is precisely concealed in the affluent commercial and residential hub of the city, in this way bringing every single conspicuous localities of the city closer to you.
Spread over 6,200 square yards of prime property, the improvement offers 192 stunningly composed extravagance apartments installed inside two buildings that present an exceptionally enunciated three – dimensional look with their façades.
Location.
Situated on Abul Asrar Hafeez Jalandhari Street, Gulistan-e-Jauhar, King's Presidency gives its residents the best Karachi brings to offer. Placing family entertainment and quality education at your doorstep, the residential development is only 14 minutes from University of Karachi and a simple 10-minute drive from Safari Park.
The project is located in Gulistan-e-Jauhar Block 3-A and it features 5- and 6-room modern luxury apartments. As an apartment project located in one of the city's central areas, King's Presidency boasts some very tempting features that anyone longing for a convenient lifestyle can hardly say no to.
The vital location of King's Presidency ALSO puts Jinnah International Airport and Karachi Golf Club only 17 and 14 minutes away, separately. King's Group has constantly spent significant time in conveying the best residential offerings to the population of Karachi and this project is a clear example of the company's dedication and involvement in the property market.
Options.
King's Presidency include 192 luxury apartments secured in two mid-rise residential buildings constructed on a three-sided corner plot. Both residential towers consist of 11 floors, with parking on the Ground Floor and one basement.
King's Presidency comprises two towers of 12 storeys each. The three-side-open plot on which King's Group is building these high-end residential towers ensures sound inlets for light and air in each apartment as well as the lobbies. According to the details shared by the developer, 50% of land in the project has been reserved for landscaping and a combined outdoor facility, giving the residents ample space and reasons for being outdoors.
King's Group has deliberated over every minute details of this project to offer people the freedom to live every moment of their lives to the fullest. Almost 60% of the total area is allocated to landscaping while the residential buildings are built on the remaining 40%. There are eight apartments on every floor featuring spacious balconies. The sizes of residential units here range from 1,650 square feet for 3-bedroom apartments to 2,000 square feet for 4- bedroom apartments.
King's Presidency offer discerning buyers 3- and 4- bedroom apartments that also feature drawing rooms and lounges in addition to the bedrooms. The project is purely residential and has no commercial activity. Each apartment comes with quality fittings and fixtures along with intercom facilities.
Facilities.
King's Presidency offers its residents a tranquil and quiet environment and lucky network to various adjacent popular neighbourhoods, and it additionally gives them a show of modern facilities and amenities. Aside from a flawlessly designed reception lobby and spacious car parking facilities, the residential project offers its residents four-speed elevators, standby generators, gymnasium, community hall, children's play areas and a beautiful mosque.
While it is often highlighted as a selling point if an apartment project is mixed-use, with one or more floors reserved for shops and marts etc, King's Presidency is a completely residential development with no reason for outsiders and irrelevant people to walk in. However, no commercial activity doesn't equal no fun, since the Presidency is planned to have a fully equipped gym, gaming area for billiards and snooker, and a dedicated community hall.
Security of the residents is ensured through surveillance via CCTV cameras, electronic security entrance gates, trained security guards and a complete boundary wall. The lush green landscaping around the residential complex will welcome residents to a tranquil sanctuary after a hectic day at work – a peaceful environment where they can have quality time with their families and watch children play joyfully around them.
Perhaps the best feature of this project is the fact that it caters to the needs of the people of Karachi perfectly by providing all that is necessary for a comfortable lifestyle while neutralizing all the hassles the average Karachi-it has to face on a daily basis.
Payment Plan & Affordability.
Apartments in King's Presidency can be occupied by paying more or less 7% of the property value, and recognizing purchasers can decide to pay the remaining sum by means of 36 monthly or 6 annually instalments. A fee like the booking expense is to be paid after affirmation of the booking of an apartment, which is normally done after 30 days. Additional charges are applicable on extra facilities.
For such a stupendous improvement in such an awesome location, the costs of these apartments are amazingly reasonable. With such astounding facilities and amenities on offer, these apartments are liable to get gobbled up rapidly, so we would encourage you to book yours immediately!

Location Map.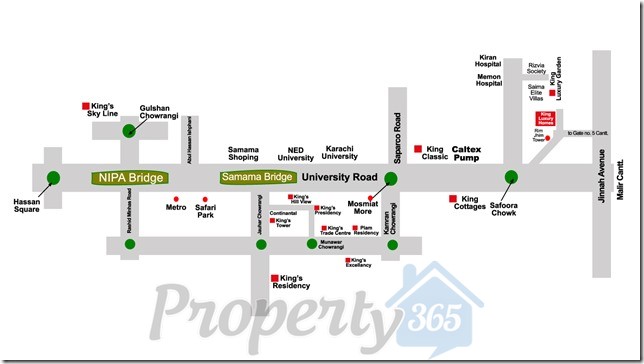 ---