Jinnah Avenue Commercial Registration Forms Sold Out

---
All Registration Forms Sold Out on Second Day
Bahria Town administration likewise thanks to Public for their overwhelming response and trust in bahria Town.
Bahria Town management has recently surprised every investor and property buyer by announcing an iconic real estate project named Jinnah Avenue Commercial in Bahria Town Karachi.
You will be more amazed after knowing that just two days after the initiation of registration process, all registration forms are sold out.
The management has also informed all the interested people that no new registration forms will be issued any more and only already issued registration forms will be submitted and considered for balloting. Last date to submit registration forms is May 25, 2015.
Bahria Town offers huge discount to those members who come out successful in the balloting.
They will get 20 lac rupees discount including paid registration fees that will be adjusted in the payment plan of commercial plots.
Those who do not come out successful and fail to get these commercial plots, Bahria Town offers 3 lac rupees discount including paid registration fees to them which can be adjusted in specified projects of Bahria Town.
Those registered members who do not apply for booking at the time of project launch will be able to get refund of 90 thousand rupees as per the company policy.
Pakistan's Most Prime Commercial Project.
Jinnah Avenue Commercial is going to redefine the commercial space of Pakistan, and this is your chance to become a part of one of the most prime commercial locations in the country. Destined to be the Ideal Business Area, Jinnah Avenue Commercial provides outstanding commercial plots alongside the magnificent Jinnah Avenue stretching in the center of Bahria Town Karachi.
Commercial Plots alongside the 18 Lane, 400 ft wide Jinnah Avenue ready for possession, Inspired by Sheikh Zayed Road Dubai.
Strategically Located at the Entrance of Bahria Town Karachi.
Direct Access to Superhighway and the Planned Karachi Lahore Motorway (M9)
20 Minutes from the Airport
12 storey Buildings
Service Roads and Allocated Spacious Parking for All Plazas
Will serve over 10 Lac residents across Bahria Town Karachi
Bahria Town Karachi Facilities.
27 Hole PGA Standard Golf Course (Under Construction)
Grand Jamia Mosque –3rd Largest in the world (Under Construction)
International Theme Park (Under Construction)
Night Safari (Under Construction)
State-of-the-Art Cinema (Under Construction)
Modem Shopping Malls
24/7 Security & Emergency Services
No Load-Shedding
World Class Infrastructure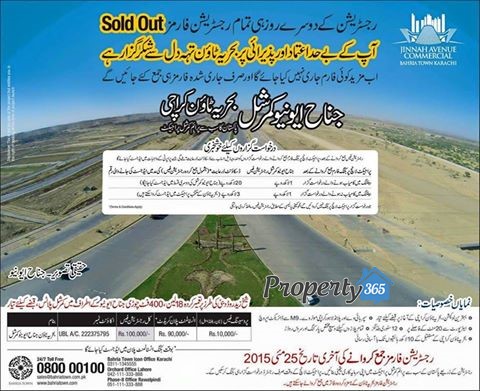 ---