Bahria Town Karachi Market Report (March) & Latest Prices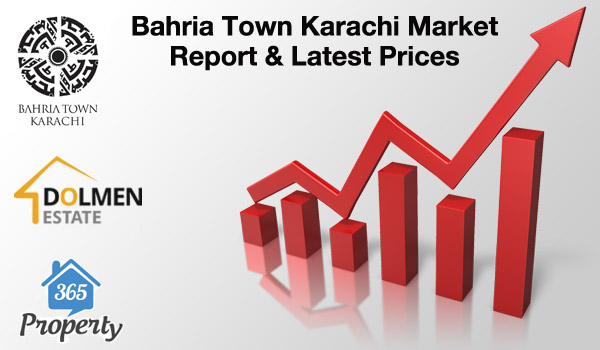 ---
The month of march had been a good month for the market of Bahria Town Karachi. On the 10th of March, booking of overseas block got closed and in that the response of Bahria town was good. In the month of March, Bahria town in Karachi with the financial investment of 1.8 Arabs made an announcement of 2 underpasses and one flyover. The work of these two projects had been started off with a good speed. Not only the announcement regarding flyover and underpasses has been made but Bahria Town has also announced a project of metro bus in Karachi and it will have an investment of a total of 25 Arabs. With such announcements regarding the infrastructure of Karachi it is clearly evident that Bahria is interested in the Bahria Town Karachi project.
In the month of March only, many answers have been given to the important questions regarding Bahria town Karachi.
Bahria Town Karachi Location
The exact location of Bahria Town became evident and it is on the main super highway and the public notice regarding this has already been put up by MDA (Malir Development Authority). The master plan regarding Bahria Town Karachi has been released as well and it clearly a shows a good Town planning.
Bahria Town Karachi Balloting
Apart from all this, one more important thing is that on 23rd March, bahria town did balloting for its housing scheme project and almost everyone got successful in balloting.
Immediately after balloting, the market saw a positive move and it was witnessed from 23 march to 29 march and as soon as after that when Bahria town released the  instalment plan, that said the first instalment is due on 7th May, the trend went downwards from 29 March to 31 March.
People who want to invest in Bahria, it is the best time for them to enter the market. After 2 and three instalments, the market of bahria town will certainly represent a bullish trend.
Bahria Town Karachi Latest Prices (April, 2 2014)
Following are the Prices for Bahria Town Karachi Successful Units (Including Token Amount):
Residential Plots:
125 Square Yards: PKR 210,000 to 225,000 
250 Square Yards: PKR 440,000 to 470,000
500 Square Yards: PKR 560,000 to 590,000
1000 Square Yards: PKR 900,000 to 100,000

2000 Square Yards: Not Available

Commercial Plots:
125 Square Yards: PKR 3,400,000 to 3,500,000 
200 Square Yards: Not Available

250 Square Yards: Not Available
Bahria Homes:
125 Square Yards: PKR 625,000 to 675,000
200 Square Yards: PKR 940,000 to 990,000 
Bahria Apartments:
2 Bedroom (950 Square Feet): PKR 425,000 to 455,000
3 Bedroom (2250 Square Feet): Not Available

4 Bedroom (2950 Square Feet): Not Available
Other Related Posts:

BAHRIA TOWN KARACHI Hoshang Pearl and Opal 225 Open Certificates Market Rates
1) Bahria Town Hoshang Pearl Karachi Rate:
Buying:90,000/=
Selling:1,05,000/=
2) Bahria Town Karachi Opal 225 Rate:
Buying:95,000/=
Selling:110,000/=
NOTE:
The above mentioned prices are extracted and provided by the Dolmen Estate. Furthermore,
these prices can change as a result of the market demand and supply.
Prices can change in either way in the open market and there are no guarantees for any price variations.
---