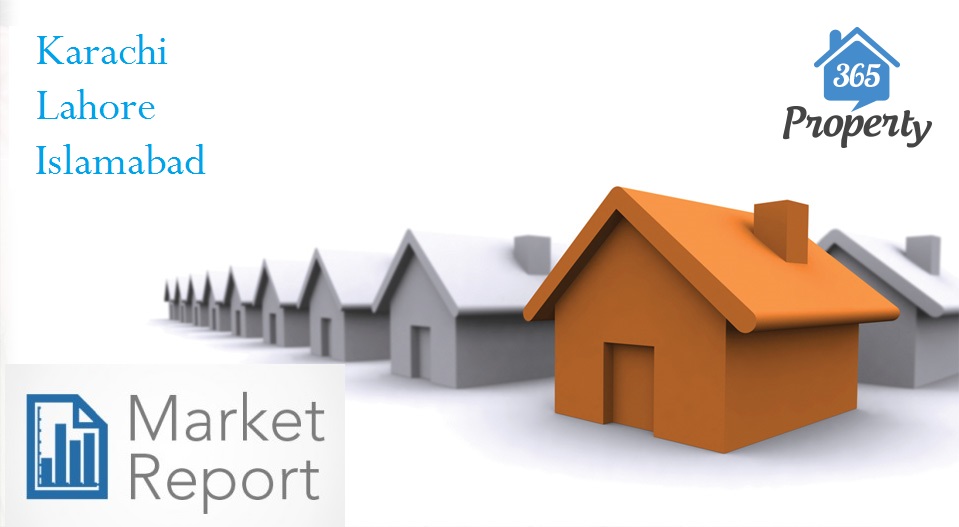 ---
Mixed Picture In Lahore And Karachi As Islamabad Rebounds.
The first quarter of 2015 had generally got off to a steady begin in all cases. Islamabad's property business looks to have increased some energy in the wake of posting to a great extent dreary numbers on the board throughout the span of the most recent 6 months, owing fundamentally to political disturbances and a subsequent spell of diminished activity. Most localities in the Federal Capital demonstrated an upward pattern and despite the fact that the price rises were small, they may in any case set the tone for the months to come.
Lahore.
After keeping up a more or less steady path for the last 4 months, prices in Lahore Cantt came down 2.77% in April 2015, with a 1-kanal plot going for an average price of PKR 29,963,158. DHA Lahore continued to follow its gradual upward trend with average prices of same-sized plots registering a 2.00% gain to land at PKR 15,199,937.
Bahria Town Lahore also saw a month-on-month rise of 2.23% for an average price of PKR 10,507,385 per 1-kanal plot. LDA Avenue I plots, meanwhile, did not register a significant change, losing 0.92% in value over the course of April 2015 to land at PKR 9,518,987.
One-kanal homes in Lahore Cantt went for an average price of PKR 36,227,287 in the same time period and pulled in an average rent of PKR 127,695 for a rental yield of 4.25%. DHA Lahore's 1-kanal houses averaged PKR 35,450,440, while Bahria Town and Johar Town averaged PKR 29,224,338 and PKR 28,922,157 respectively.
Search Trends.
The top performers of Lahore's real estate market have been remarkably consistent all year. Defence Housing Authority (DHA) Lahore has been the most popular choice for investors and buyers throughout the year, and it continues to retain its position at the top of the table for both plots and homes. Despite its remote location, Bahria Town Lahore has also received consistent interest from buyers because of its multitude of excellent facilities and amenities, and has retained second place on both lists.
The rest of the top performers have all made their way up and down the list on occasion, based usually on important developments such as the announcement of possession or major infrastructural progress. The uncertain political landscape has also served to intensify interest in localities that are considered safer from both a security point of view and in terms of potential for returns, so the top players are likely to retain their positions in the coming months.
TOP 5 Localities for Plots & Homes in Lahore| April 2015.

Islamabad.
This was the first time in a few months that Islamabad's market showed a uniformly upward trend, with all major localities posting good numbers. While it is too soon to say with certainty how long this trend will continue, it is nevertheless a solid performance that should relieve investors' concerns.
Sector F-11's 1-kanal plots gained 2.24% in value over the course of April 2015 and registered an average price of PKR 50,375,000. Sector E-11 reversed its downward trend with a small 0.75% gain in April 2015, landing at an average price of PKR 36,162,857. Meanwhile, Bahria Town Islamabad/Rawalpindi gained a decent 1.66% to register an average price of PKR 11,616,981 per 1-kanal plot, and DHA Islamabad's 1-kanal plots gained 1.62% to clock in at an average price of PKR 12,286,134 in April 2015.
Sector F-11 1-kanal homes went for an average price of PKR 66,096,893 in April 2015 and pulled in PKR 194,138 in monthly rent. Same-sized homes in Sectors E-11 and G-11 averaged PKR 62,327,575 and PKR 55,992,009 respectively.
Search Trends.
The top localities for plots and homes in Islamabad remained largely consistent, with one very noticeable change. With its upward trajectory restored, Sector F-11 knocked Sector F-10 off the list of top five localities for homes in Islamabad and claimed 5th place.
DHA Defence headed both lists as usual. Once again, the gap between DHA at the top and Bahria Town in second place was vast. The rest of the list comprised Sector B-17, Sector G-14 and Sector G-13.
Sector E-11 was in second place on the list of top localities for homes in the Federal Capital. DHA Islamabad, which heads the table of searches, should be concerned because the gap is not much and it could lose its longstanding lead to Sector E-11 in coming months. Bahria Town, Sector G-11 and Sector F-11 comprised the rest of the top localities for homes in the city.
TOP 5 Localities for Plots & Homes in Islamabad| April 2015.

Karachi.
Gulistan-e-Jauhar was the only major locality in Karachi to register a noticeable gain over the course of April 2015. One-kanal (or 500 square yard) plots in the locality gained 2.77% in value to land at an average price of PKR 11,955,556 over the course of the month.
DHA Karachi, which had taken a major jump in January 2015, underwent an expected correction in April 2015 and prices came down 1.70% to land at PKR 33,585,597 per 1-kanal plot. Average prices in Gulshan-e-Iqbal and DHA City Karachi registered no significant changes and remained at PKR 21,000,000 and PKR 3,774,009 respectively.
Search Trends.
As we've said before, something extremely intriguing is going on in Karachi. Without precedent for, quite a while, DHA Karachi has been deposed regarding the quest for plots in Pakistan's biggest city. Bahria Town Karachi has ascended to the top spot on the rundown of most famous localities for land, of the aggregate hunt down plots in Karachi. This is demonstrative of the same pattern we have talked about above – the shift in investor focus to under-development investment opportunities.
DHA Karachi came in second of the aggregate plot looks. While the distinction is little, unseating the DHA juggernaut from the highest point of the table is no mean accomplishment, and things are likely going to turn upward for Bahria Town Karachi. Investors ought to observe this. In terms of homes, Gulistan-e-Jauhar holds in front of the rest of the competition of all searches, trailed by DHA Karachi. Gulshan-e-Iqbal, North Nazimabad and Federal B Area round up whatever is left of the top five localities for homes in Karachi.
TOP 5 Localities for Plots & Homes in Karachi| April 2015.

Final Analysis.
One key takeaway from these numbers was the enhanced exhibitions of Bahria Town's Lahore and Islamabad/Rawalpindi projects. Since the uncontrollably prevalent Bahria Town Karachi has been the engineer's focal point of consideration for some time now, these undertakings have discreetly endured out of sight yet are presently beginning to demonstrate some force.
Islamabad is a very real estate market, and its downturn for most of 2014 had been foundation for concern. The primary signs of a bounce back ought to be welcome news for speculators.
Despite the fact that things have a cooled a bit in Karachi and Lahore, there is not any purpose behind financial specialists to stress. This is the first quarter of the year, so watching things nearly to recognize patterns is the proper thing to do right now. Regarding hunt patterns, it is encouraging to see LDA City in the rundown of the most popular areas in Lahore. Another project promptly graphing so high in prevalence says a lot for the interest and openness in the business sector, which is an extraordinary sign for the real estate in general.
---