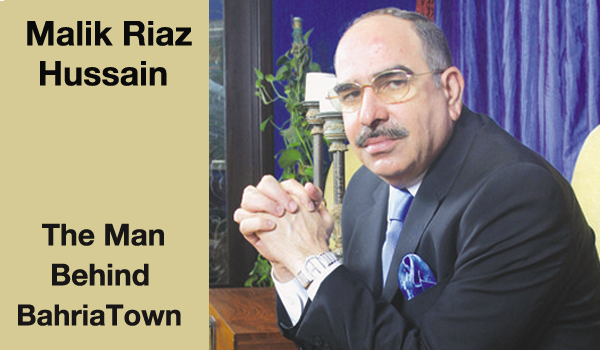 ---

Early Days of Malik Riaz Hussain
Malik Riaz Hussain is a big name today but not all big people start big too. Born on 8th February, 1954 in the city of Islamabad, Hussain is belived to be born a lucky child but it was not until the harsh realities hit him that the situation reversed.  Although he took birth in a rich family as Malik Riaz Hussain's father had a business empire of his own, when the empire dwindled down, life became so worse that Hussain had to begin working at the post of clerical staff at a mere age of 19 years. To top make matters worse, Hussain's daughter was in the need of a medical treatment for which Malik Riaz spent greater part of his time paving paths and painting houses to make both ends meet.
The Journey to Becoming Pakistan's Twelfth Richest Man
In 1980s, Hussain kick started his career by being a small contractor. Although the milestones achieved from being a clerk to the twelfth richest man in the county are rather vague but one can certainly associate Malik Riaz's success to his cunning and smart attitude. He then became famous for giving valuable advice to rich military officials on ways to accumulate wealth. Furthermore, a lawyer who was contesting cases against Hussain informed that he had submitted evidence to the Supreme Court regarding the agreements between Malik Riaz and Fasih Bukhari who was the former Navy chief admiral(r).
Malik Riaz Hussain and Bahria Town
As they say, every second is another chance to turn your life around and it looks like Malik Riaz Hussain took the statement word by word. His life turned around when the Navy withdrew from supporting a housing project in Rawalpindi, hence Bahria Town was born. That was the defining moment and Hussain then never looked back. He carried out a number of projects and schemes. However, there is one thing which leaves a number of people confused and that is the fact that Hussain's projects promised the construction and schemes without actually acquiring the land.
Inspite of the this confusion, the masses did not resist from investing their money into Bahria Town and the offices were seen jam packed with every second individual trying to get hold of the limited registration forms.
It is perhaps true that success has never come easy to anyone and so was the case with Hussain himself. Amidst building and establishing his business empire, he came across a number of legal suits and these ranged on a variety of claims such as having murdered the opponent, indulging in fraudulent activities and issues of land seizing. Although many of these cases have been resolved, several of them still remain pending.
The Hussain who used to wait for long durations to get the hold of a contract had now changed into the man who himself was responsible for the hiring and selection of various Navy professionals in the project of Bahria Town. Those close to Malik Riaz Hussain comment on his capabilities to gauge the person and his greed in the first encounter only.
Talking about the economy and the people of the country, Hussain has contributed a lot for the mankind simply by providing shelter and residential facilities at affordable costs. His charitable works include educating children in several schools, giving out free food to those in Bahria Town and providing medical care to those in need.
A rival lawyer to Hussain comments that all good deeds carried out Hussain are simply to cover up his evil deeds however we as common people have no right to judge him. For the masses, Malik Riaz Hussain is the man who brought to surface a new picture of the South East region by a project that will provide shelter to countless lives.
---