Inauguration Of Clifton Underpasses & Flyover By Malik Riaz Hussain

---
One Flyover, Three underpasses and two pedestrian bridge constructed by Bahria Town.
The project entailing a network of one flyover, three underpasses and two walk-troughs for pedestrians was officially inaugurated by 70-year-old employee Ghulam Jilani in the presence of Bahria Town chief Malik Riaz Friday evening.
Bahria Town Clifton Flyover & Underpasses inaugurated today. A public infrastructure project completed by Bahria Town with its private investment of over Rs. 1.8 billion, it is spread over 2 kilometers and includes 1 Flyover, 3 Underpasses, 2 Pedestrian Subways and allied roads and footpaths.
The chairman of the largest private housing society in Asia requested business community in the country to step up and start investing in Pakistan rather than directing their capital abroad.
A project consisting of underpasses and flyovers constructed by Bahria Town as a gift to the people of Karachi. Equipped with latest facilities, the flyover and underpass are sure to be utilized fully by the citizens of the city. Bahria Town has made all the roads leading to its icon project virtually signal-free. Although the project does not look massive in nature yet a cost of 1 Arab 80 crore rupees incurred for its construction. It comes as a surprise that the iconic project only benefits Bahria Town 5% while 95% benefit goes to people of Karachi. Although Malik Riaz was in attendance at the time of inauguration yet the project was inaugurated by 70-year-old carpenter Ghulam Gilani. Speaking at the occasion, Ghulam Gilani said that the project by Bahria town will leave a lasting impression for times to come. Citizens also thanked Malik Riaz for the project on the occasion.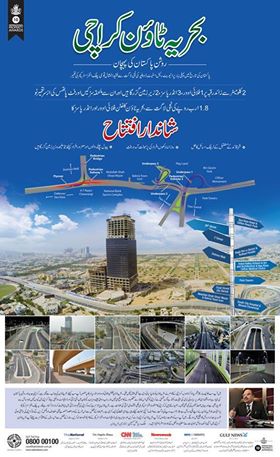 ---