Development Works Under Fast Progress – Bahria Town Karachi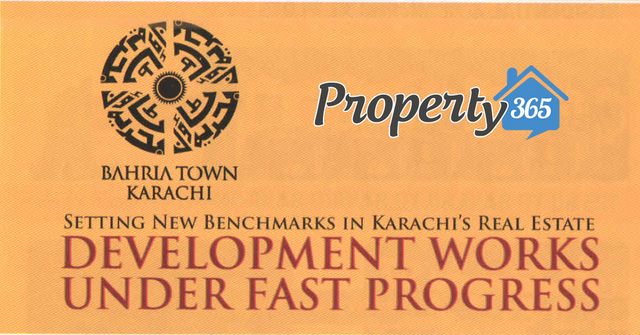 ---
Bahria Town Karachi is Asia's largest Real Estate Developer in the private sector. It has big team of foreign and local workers. It has won 10 International Property awards.
Property365 Team had visited Bahria Town Karachi (located on super highway) and meet with top-level management. The team was briefed about ongoing various projects. For the first time in Pakistan, Billion of Rupees worth of resources and machinery have been deployed to a construction site. The best local & international consultants, architects and engineers are busy in the effort for timely delivery of the project. A State-of-the-art infrastructure is being developed in order to provide the Bahria Town Residents with all the modern facilities & amenities of life.
Property365 team observed following projects which were under construction.
Bahria Homes Karachi.
A COMPLETE LIVING EXPERIENCE
Bahria Homes is a rich expansion to the scene of Bahria Town Karachi. Designed with the finest materials and imported installations, these homes reflect true comfort and practicality, agreeable and roomy rooms, shocking ceramics and originator kitchen cabinetry join to make the outstanding characteristics of these delightful 5 and 8 marla homes.
125 SQ YD BAHRIA HOMES


Luxury Homes Built with maximum utilization of space.
200 SQ YD BAHRIA HOMES

Ultra-modern Designer Villas with premium fittings
Bahria Apartments.

Standing tall in the midst of the grand Bahria Town Karachi, Bahria Apartments are a wonder of advanced construction modeling consolidating practicality with the most extreme in comfort and luxury. With fabulous perspectives of Bahria Town Karachi, the apartments come in sizes of 2, 3 and 4 bed. Advanced outlines with universal fittings and fixtures make Bahria Apartments a true beacon of luxury.
Jinnah Avenue.(400 ft wide, inspired by Sheikh Zayed Road, Dubai)

The project would benefit the current residents and Bahria enclave residents in the Future.
The CDA has approved the construction of Jinnah Avenue in Zone 4. The project will be initiated and completed by Bahria Town at its own expense of Rs 220 million. This 150 foot wide modern road would link main Kurri Road to Kurri Model Village. This will also serve as a thoroughfare open to all the residents of the villages in the vicinity as they use other thoroughfares throughout the country.
Grand Jamia Mosque.

Grand Jamia Mosque, Karachi also known as Bahria Town Jamia Masjid Complex is a mosque under construction in Bahria Town, Karachi, Pakistan. When completed, it will be world's third largest mosque with a capacity of 800,000 people. The complex also is planned to include an international Islamic university, modern Islamic culture centre, Islamic library, Islamic research centre and a museum. The mosque is being constructed on hilltop 60 ft (18 m) high with a single-monument minaret towering 325 ft (99 m).
Pakistan's First International Theme Park.

Bahria Adventura is Pakistan's First International and world-class theme park including the most far reaching scope of thrilling and energizing rides ever saw, with construction modelling mirroring the experiences of Sindbad and Aladdin. Bahria Adventura is being inherent joint effort with the best Italian producers, highlighting innumerable attractions of the most amazing models, to bring you unmatched excitement for the entire family to appreciate. Dive into the fun and adventures with Electrifying Roller – Coaster, Grand castle, Incredible Circus, Great Ferris Wheel, take a cheerful Train Ride, experience a Fall in Zero Gravity, Water Rides or observe the spectacular Nighttime Events, you will not want to miss any of the thrilling adventures that await!
BAHRIA TOWN KARACHI'S COMMUNITY FEATURES.

• Master-planned gated community
• Advanced security & rescue services
• Pakistan's largest shopping mall
• Five –Star hotel, Pakistan's First 27 Hole PGA Standard Golf Course
• Cricket stadium, indoor/outdoor sports facilities
• Gold-Class cinemas
• State-of-the-art sports facilities
• World-class school, college and International University
• International standard hospital
• International theme park, play-land and water-rides
• Wonders of the world monuments (Eiffel Tower, Taj-Mahal and Statue of Liberty)
• Jamiah mosque
• Landscaped parks
• Community sports club & zoo
• International standard construction & infrastructure
• Grid station & telephone-exchange
• Transport system from Bahria Town to City Centre
• 100 % backup power (No Load-shedding)
---