Defence Housing Authority (DHA) Phase 8, Karachi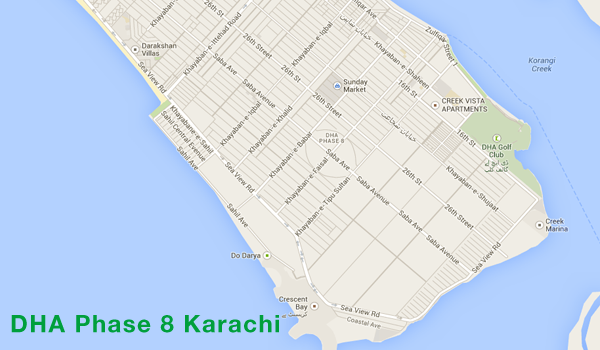 Karachi City has number of housing schemes; Defence Housing Authority (DHA) is a prominent one. Having 8500 acres of land, the housing scheme is further broken down into 8 phases. Phase 8 of the DHA is the biggest among all with an area of approximately 4800 acres. The phase 8 in further categorized into the following zones:
• Zone A
• Zone B
• Zone C
• Zone D
• Zone E
• Phase 8 – Ext Sahil
Each of the above zones are now explained and discussed in detail below:
Zone A

Zone A as its placement is the largest zones in the phase 8. The plots available in this area are of 1000, 2000, 666, 500 and 600 sq yards. Zone A is located between the Khayaban-e-Qasim and Khayaban-e-Ghalib and also includes the Zulfiqar Street 1 to Beach Avenue. Two commercials also come under Zone A which are namely, Zulfiqar Commercial and Al- Murtaza Commercial where plots of 200 sq yards are still available.
Zone B
Spread from Khayaban-e-Ghalib to Khayaban-e-Bilal and with Zulfiqar Street 1 to Khayaban-e-Shujaat, on the other side, Zone B is the second largest in terms of space among all other zones of the DHA scheme. The plots occupied here only accumulate to 2% to 3% while the rest are all available to be acquired. Plots available here are of 100, 120, 150, (DHA staff category) and 500, 1000. A handful of 2000 sq yard plots can also be found here.
In addition to residential facilities, some plots are also allocated for the purpose of amenities. A number of these are for schools and colleges which are functioning in full swing. Moreover, the beautiful DHA Karachi Creek Vistas and the Golf Club also fall in Zone B. Finally, Mr. Aqeel Karim Dhedhi (AKD) is also going to be launching a new project in Zone B by the name of The Arkadians. This new project covers over 43 acres of land.
Zone C
The most talked about zone of the phase 8 is Zone C. Looking to be made into a modern and upbeat commercial and residential area, Zone C lies in between the Khayaban-e-Bilal to Marine Avenue, with 16th Street to Beach Avenue on the other side. Residential plots in Zone C are of 500 and 1000 sq yards while those of the commercial type are of 333, 666, 1000, 1500, and 2500 square yards. Zone C is also the hottest in town in terms of investment opportunities.
Zone C is an essential part of the DHA scheme due to its creek facing view. In addition to this, those who like to live life larger, popular cafes like the Kolachi, Cafe Olive, Afridi Inn, and Hot Bite are also located here.
Zone D
For those who are looking for a pure residential zone, D is the one they must opt for. This zone does not include any commercial plots and those that are residential include 500, 1000 and 2000 sq yards plots that you can choose from. At present, this zone has not been granted the permission for construction. However, a full-fledged club by the name of Sun Rise Club will also be operational in Zone D. Emaar, world renowned developers and construction experts are building their project right in front of this zone which adds more value to Zone D.
Zone E
Spread from Khayaban-e-Ghalib to Khayaban-e-Bilal, and on other side from Khayaban-e-Shujaat to 34th Street, Zone E offers both commercial and residential plots which are of 100 and 200 square yards and 500,600, 1000 and 2000 square yards respectively. Construction in the Zone E is not allowed as yet! Sunday Bazaar is the biggest attraction located here in Zone E.
Phase 8 – Ext Sahil
The Sahil Streets are an extension to the major Phase 8 and the plots offered here are 300 and 500 sq yards for residential plots and 100 sq yards for commercial plots. The process of the development in the Sahil streets is going on however the infrastructure of the area is almost complete!
The lands available in the Sahil Extension are 2.6 kilometers long and 0.3 kilometers wide. Phase 8 is based over 220 acres and approximately 60% of the area is allocated to plotting while the other 40% is used for Parking purposes and for the development of roads and parks. Roads in this zone are 35 feet wide. This extension of phase 8 consists of 38 Sahil streets with 300 and 500 sq yard cutting plots. Phase 8 Sahil Streets are spread from Beach Avenue with Sahil Avenue on the other hand. Between these two points lie a number of different Khayabans which include Khayaban-e-Khalid, Khayaban-e-Babar and Khayaban-e-Faisal Khayaban-e-Iqbal.
---