Danish Ambassador visit DHA CITY Karachi Site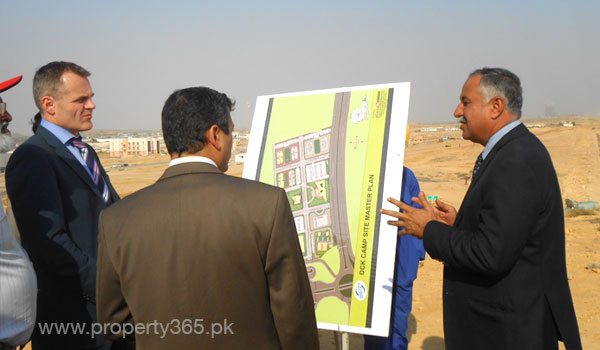 ---
On 18th February, 2014, the site of DHA City Karachi was visited by a Danish ambassador. Project director of the DHA City Karachi (DCK) along with a number of other officers, consultants and engineers and received the ambassador and were present on the occasion. Project Director, Brig (R) Muhammad Rafique was accompanied by the consultant engineer Arif Osmani.
Both the experts informed the ambassador about the construction works at the site. Moreover, the brief meeting also included discussions on how the DCK had passed a number of milestones and that the team is making every possible effort to launch the project for its eager residents in between 2015-2016. Elaborating upon the construction, Brig Rafique informed the ambassador that since buildings, roads and infrastructural development comes under the short term development plan therefore these were very close to their completion. On the other hand, the sector development work was going on at a faster pace.
The project director further added that the aim of the team behind DCK was to turn the project into Pakistan's one of a kind Smart and Sustainable city therefore versatile development strategy was being put to action. In response to the briefing given by the project director, the Danish ambassador was not only impressed but also showed great interest in the development demonstrated by the DCK project. His pleasure in seeing the entire development move successfully was visible when he said that he sees great potential in Karachi and that after the DCK project, the city is all set to attract international investors right away!
---